At ZogCulture, we believe life is better with real personal connections, a caring community, and a sense of play. No one embodies our mission more so than our event facilitators.
Your facilitators are the reason why your event runs so smoothly and you can have a fun, stress-free opportunity to connect with your colleagues. Our Meet The Team series introduces you to some of our event facilitators so you can learn about their diverse backgrounds and unique skillsets.
This week, we're introducing you to Mariana Llausas-Zuniga. Mariana is one of our many wonderful support staff who work behind the scenes during your event to ensure scores are tabulated, photos are taken, and all event logistics are executed flawlessly.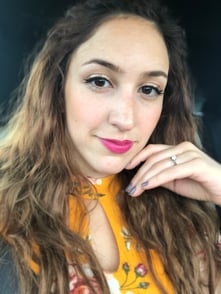 How do you spend y
o
ur time outside of Zog?
I have a LOT of passions! I am a makeup artist and fashion designer. I'm a mom and a wife. To relax, I enjoy baking and drawing. Singing and dancing are also huge passions of mine. Plus, playing volleyball makes me extremely happy.
What has been a highlight of your career?
I loved being a makeup artist and empowering people to visually display the beauty they have on the inside. I find great joy in any work where I go through the creative process to transform an idea into something palpable and beautiful.
Why do you like working for Zog?
I enjoy the interaction we have with our clients. I'm able to be myself, be funny, and give our clients the experience they need (which is having fun).
It's self-care for them as well as for myself. I'm able to showcase my creativity to entertain and solve problems. I've even been able to showcase my singing during one particular event.
When have you seen our mission at work?
During every event! Our games are designed to motivate people who might not know each other, to be part of a team and help one another. Plus, no game is lacking in laughter.
Any tips for maintaining connections in a virtual world?
Keep having fun with each other! Doing more virtual events helps, but also hanging out in the real world and finding things in common.
Anything fun you want the world to know?
I used to be a chiropractor's assistant which has nothing to do with the arts, but I enjoyed it as much as any other job.

I was born in the US but grew up in Mexico. I moved back to the US when I was 21 and that's why I have an accent.

I have two fur babies, Mina (Chihuahua mix) and Lili (Boston Terrier).
You can learn more about Mariana by visiting https://marllazu90.wixsite.com/fashionportfolio
---
To meet Mariana and the rest of the incredible ZogCulture staff, book your next event with ZogCulture by emailing Bryan@ZogCulture.com
Image courtesy of Mariana Llausas-Zuniga