It's that time of year again. There's a chill in the air. Puffy jackets, hats and scarves are on. Your morning coffee is dressed up in a holiday cup. And your company holiday party is just around the corner.
Whether you're the holiday ambassador with a tinsel adorned desk and carols on repeat or staring longingly at your Spring Break 2019 screen saver from the Bahamas; we've got your back this holiday season.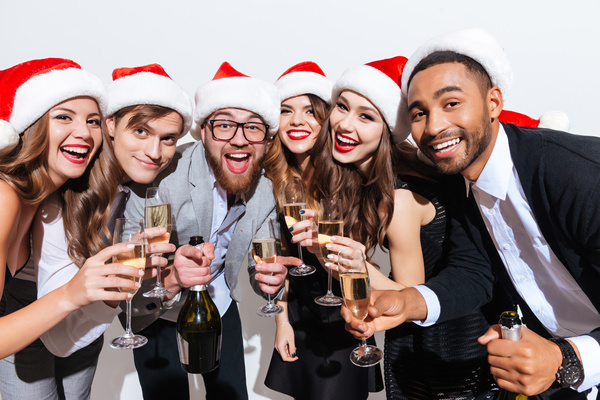 News flash: your holiday party's vibe does not have to be as cold as the weather forecast. Celebrate and be merry with coworkers over these 5 icebreakers -- pun intended. We dare you not to laugh!
5 Holiday Party Icebreakers you can do anywhere
One Winter Night...
Go line for line with a few coworkers to build a holiday story. Start with "one winter night" and see where the story takes you as each coworker in the circle adds three words one after the other in a circle to create a festive narrative.
Related posts
> Why Bowling is One of the Best Company Holiday Party Ideas
> 5 Super FUN places to throw your work holiday party
Would You Rather?
Would you rather build a snowman, go sledding, have a snowball fight, or stay inside by the fire drinking hot cocoa?
Sharing Traditions
Share your favorite holiday tradition. We all have quirks and celebrate in our own unique ways; what makes this time of year special for you?
Holiday Charades
A party classic. Gather a small group and split into two teams. Have everyone submit 1-2 holiday themed prompts for the opposing team. The prompts could be a fictional holiday character like Rudolph, a religious item like the menorah or anything else. Each team has 2 minutes to act out their prompt for points. Go until you can't act out another!
Igloo Build Off
All it takes are some marshmallows, toothpicks and gumdrops. You have 15 minutes to build the Igloo of your dreams. Your coworkers will be the judge; most votes takes home the W.
Stay warm out there and remember not to overdo the eggnog!
If you want to take your holiday party to the next level; let our ZogCulture Crew plan and facilitate a holiday party your company will never forget. We will work to ensure there is something for everyone whether we take you out to the ice skating rink or bring unique and festive activities to your office space.