The World Cup is back in full-swing--this time, women are taking the global stage. As the tournament kicks off tomorrow, that doesn't have to mean complete madness in the office. You can turn this into a real opportunity to connect with coworkers.

During the last Women's World Cup, more than 750 million people

tuned in to watch teams chase glory on a well-manicured pitch for 90 minutes at a time. In fact, nearly 27 million viewers made the 2015 final the most-watched soccer event in U.S. television history--and the match did not disappoint with an exciting 5-2 victory for the U.S. Women's National Team, who captured their third title.


With soccer's growing popularity and viewership in the country and the USWNT poised to challenge for another trophy this year, employers should lean into the tournament's buzz and learn how to channel that infectious energy.
So how can your company benefit from that positive World Cup vibe?
Sorry to break the news, but employers who wage war with this international phenomenon are fighting a losing battle. Because believe it or not, studies show that the happiness derived from watching a team win in the World Cup actually increases productivity.
So, instead of resisting, consider the benefits of leaning into the soccer shenanigans and embrace the event as the epitome of engaging competition that can energize your team.
1. Build Community with a Watch Party
If everyone's going to be secretly streaming the games from their desk, that's a missed opportunity AND a loss of productivity.
Why not make it into a chance to connect person-to-person? Throw a watch party in the conference room with the nice TV and stream a popular match for all to see. Watch parties in the office provide ample opportunity for team-bonding, whether you're simply enjoying the games together or incorporating side games like an office pool where the winner has money donated to a charity of their choosing. An office pool could also potentially engage those workers who aren't soccer fanatics.
2. Celebrate Multiculturalism, Diversity, and Your Team
With the global spectacle bringing billions of people together, the World Cup is a great opportunity to learn about the 24 nations participating in the tournament and the multiculturalism of your company.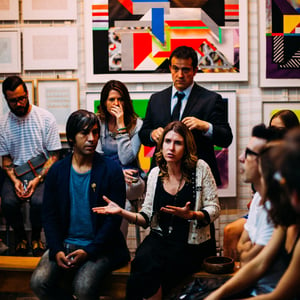 The chance to learn about a coworker's roots could even promote a deeper level of camaraderie within the team. Plus, tying these learning moments together during halftime of the watch parties would be a more effective, efficient way of including everyone in the festivities. It'd also be a worthwhile excuse to broaden the usual lunch spread into a dalliance with international cuisine!
3. Show Your Team You Trust Them: Offer Scheduling Flexibility
With matches scheduled throughout the average work day, companies should be cognizant of workers who don't want to miss any of the highlights of the tournament. They will find a way to watch, as the 2015 tournament proved when 86 million people watched the games online with streaming traffic continuing to trend upward in the years since.
Instead of trying to stamp out viewership during work hours with hardline internet control, consider offering workers the flexibility of taking those hours to watch a match and making up for them later. This would allow your team to focus on their tasks on their own time without feigning productivity and flicking through incognito tabs on the clock. It also evokes a level of trust in employees, which could go a long way in boosting morale.
All in all, the World Cup doesn't have to be a productivity killer. The energy revolving around the competition is palpable and the concept of play can be channeled to promote team-building, which can subsequently produce positive results in efficiency, retention, and other intangible ways that ultimately can benefit a company in a myriad of ways.